This is the official website of
Kosi
, also known as
The Sublime Miss Kosi
,
Kosi Gyebi
,
Kosi Gyebi Sorensen
,
Akosua Gyebi
, and
Akosua Gyebi Sorensen
. She is a singer, vocalist, singer-songwriter, and arranger in
jazz
, r&b, blues, and rock music.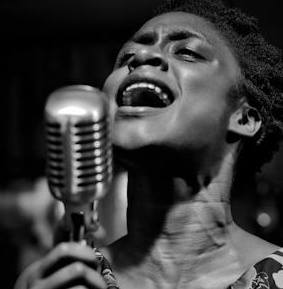 Music Store
Reviews
All About Jazz | Ghosts Appearing through the Sound
:
The level of commitment and stamina required to perform these songs is nothing to balk at, as I've witnessed firsthand when seeing Kosi perform them live, and she handles each with a sense of total self.
– Tyran Grillo, Apr 27, 2016
Black Grooves | Ghosts Appearing through the Sound
:
The difficulty of effectively performing this repertoire is likely one reason there aren't many tribute albums dedicated to Lincoln's music. […] It is impossible to duplicate Lincoln's delivery and quite difficult to set up a compelling original interpretation of much of this material.

by Matthew Alley on Jan 4, 2016
All About Jazz | Kosi at The Way Station
:
Kosi has devalued the phrase "unsung hero" by being a valuable heroine of song. The New York-based singer-songwriter has dropped three albums so far in her fiercely independent career. Between the intimate guitar-accompanied One More Cup of Coffee and her full band follow-up Pictures of Us, she had already described a lifetime's worth of ups and downs for the self-reflective listener. In anticipation of her latest album, Ghosts Appearing Through the Sound, she floated some of the Abbey Lincoln songs that are the subject of its timely tribute.
by Tyran Grillo, October 11, 2015
Click here for more reviews
CD comes in a jewel case with a one-panel insert and pretty artwork. Download comes in your choice of high-quality MP3, FLAC, or just about any other format you could possibly desire.
Also available on:
itunes
,
tidal
,
spotify
,
amazon
,
google play
,
cdbaby
,
bandcamp
"People came before us, leave their memories behind... actions done and actions written, acts impressed upon our mind..." -- Abbey Lincoln
This album was created to accompany a theater production called Ghosts Appearing through the Sound: a tribute to Abbey Lincoln. For more information on that, visit:
http://kosi-sings.com/abbey-lincoln-tribute
More images:
front
back
inside
Release Date:
August 6, 2015
Kosi - vocals
Noel Simone Wippler - vocals
Brendon Biagi - Tenor Saxophone
Aron Marchak - Guitar
Domagoj Miskovic - Guitar
John Lander - Piano
Christopher Hall - Bass
Isaiah Pierce - Drums

Recorded by Jonathan Rooke in New York, NY
Recorded and mixed by Joe Davi in New York, NY

Special thanks to:
Dawoud Kringle
Stella Woodroffe
Rene Calvo
Roger Fausold
Lorens Chuno Udeigwe
1. Learning How to Listen

4:37

[credits/lyrics]
Lyrics to Learning How to Listen (hide)

Learning how to listen

how to hear a melody

how to hear the song I'm singing

how to breathe and let it be

and listen to the song

knowing how it goes

and listen for the melody that flows

Music is a lover

with shining golden wings

that whispers in the lovers' ears

and dances when it sings

it sings in variation

on an everlasting theme

it's either love or sorrow on the scene

Learning how to listen

how to holler, sing the blues

and I'm learning how to rise above

and wear somebody's shoes

I'm learning how to listen

for this song was given me

I'm learning how to listen

and I'm learning how to listen

and I'm learning how to listen and be free

written by Abbey Lincoln

Vocals - Kosi
Guitar - Aron Marchak

hide
2. Africa

5:13

[credits/lyrics]
Lyrics to Africa (hide)

There's a land of milk and honey

on the river they call the Nile

Everywhere is bright and sunny

on the river they call the Nile

it's a garden of Eden

with riches untold

and it's on this land of milk and honey

on the river they call the Nile

Beautiful wonderful Africa, someday I'm coming

I'm coming for to see the promised land

with those days of sunshine and nights of heavenly starlight

it's a paradise of sea and sky and sand

It's a garden of Eden

with riches untold

and it's on this land of milk and honey

on the river they call the Nile

With those talking drums that tell of lovely lovely laughter

they're telling of a new and a brighter day

they're telling all the people from here and ever after

there ain't gonna be no trouble on the way

It's a garden of Eden

with riches untold

and it's on this land of milk and honey

on the river they call the Nile

on the river they call the Nile

on the river they call the Nile

written by John Coltrane lyrics by Abbey Lincoln

vocals - Kosi
saxophone - Brendon Biagi
piano - John Lander
bass - Christopher Hall
drums - Isaiah Pierce

hide
3. Driva Man

2:54

[credits/lyrics]
Lyrics to Driva Man (hide)

Driva man he made a life

but the mammy ain't his wife

choppin cotton don't be slow

better finish out your row

Keep a-moving with that plow

Driva man will show you how

Get to work and root that stump

Driva man will make you jump

Better make your hammer ring

Driva man will start to swing

Ain't but two things on my mind:

Driva man and quittin time

Driva man the kinda boss

ride a man and lead a horse

When his cat-o-nine-tail fly

you'd be happy just to die

Run away and you'll be found

by his big old redboned hound

Pat-e-roller bring you back

make you sorry you is black

Driva man he made a life

but the mammy ain't his wife

Ain't but two things on my mind:

Driva man and quittin time

Ain't but two things on my mind:

Driva man and quittin time

Driva man and quittin time

written by Max Roach and Oscar Brown from We Insist!: Max Roach's Freedom Now Suite

Vocals - Kosi
Tenor Sax - Brendan Biagi

hide
4. Down Here Below

9:18

[credits/lyrics]
Lyrics to Down Here Below (hide)

Down here below

The winds of change are blowing through the weary night

I pray my soul will find me shining in the morning light

Down here below

Down here below

it's not so easy just to be

sometimes I'm really all at sea

You made me when the world was new

and skies were blue

and I am here because there's you

They say I'll never see your face

that we're all banished from your grace

the one you fashioned with your hand

and scattered all across the land

but I am happy just to know

that you will go where I must go

for there are wounds and scars to show

living here, down here below

Down here below

the setting sun is shining on my melancholy mood

I hear the distant thunder and the crying of the loon

down here below

I'm yours alone

the only one to call my own

the only one I've ever known

Sometimes I see you standing there

Sometimes I'm free

and you are here, down here with me

You made me just the way to be

a heart that feels and eyes to see

a strong embrace, a simple hand

a spirit free that says "I can"

and I am happy just to know

that you will go where I must go

for you will send me, this I know

living here, down here below.

written by Abbey Lincoln

vocals - Kosi
piano - John Lander
bass - Christopher Hall
drums - Isaiah Pierce

hide
5. Caged Bird (ft Noel Simone Wippler)

4:56

[credits/lyrics]
Lyrics to Caged Bird (ft Noel Simone Wippler) (hide)

The birds who live in cages never spread their wings

they sit with ruffled feathers upon their tiny swings

and speculate the birdseed and while away the days

tuck their heads in feathers of colorful arrays

I know why the caged bird sings a sweet and soulful song

I know why the caged bird sings when everything seems wrong

I know why the caged bird sings and flaps his tethered wings

birds were made to fly away and birds were made to sing

The birds who live in cages feel the morning sun

shining through the window where the captain lives by gun

and stretches forth his body and warbles for the day

moves his head from side to side and listens for the way

I know why the caged bird sings a sweet and soulful song

I know why the caged bird sings when everything seems wrong

I know why the caged bird sings and flaps his tethered wings

birds were made to fly away and birds were made to sing

written by Abbey Lincoln based on the poem by Maya Angelou

Vocals - Noel Simone Wippler, Kosi
Guitar - Aron Marchak

hide
6. Blue Monk

1:55

[credits/lyrics]
Lyrics to Blue Monk (hide)

Going alone

Life is your own

but sometimes the cost is dear

being complete

knowing defeat

keeping on from year to year

it takes some doing

Monkery's the blues you hear

keeping on from year to year

Life is a school

'less you're a fool

but the learning brings you pain

knowing at once

you're just a dunce

trial and error, loss and gain

it takes some doing

Monkery's a slow, slow train

trial and error, loss and gain

Finding that one

place in the sun

doesn't come the easy way

shallow and deep

nothing is cheap

measured by the dues you pay

it takes some doing

Monkery's a blue highway

measured by the dues you pay

written by Thelonious Monk lyrics by Abbey Lincoln

Vocals - Kosi
Bass - Christopher Hall

hide
7. Wholly Earth

6:46

[credits/lyrics]
Lyrics to Wholly Earth (hide)

Oh the holy earth's a mural

seen from way up high

abstracted, natural, bas relief

witnessed from the sky

clouds that cast a single shadow

drifting, moving on the ground

creating an illusion

as the world goes round

Places where the folks inhabit

have a geometric grace

circles, squares, sometimes triangles

rules and lines in space

waterways and craggy mountains

seemingly reveal a plan

just as if somebody drew it

with a great big giant hand

Life's a repetition

it's an action of repeat

act of doing, act of saying

something bitter, something sweet

acts of life that keep occurring

ghosts appearing through the sound

waving at us from a distance

cause the whole wide world is round and round and round and round

the whole wide world is round

Generations generating

bring the people here en masse

we're living in a world

where everybody's second class

forming moving in a circle

ghosts appearing through the sound

waving at us from a distance

cause the whole wide world is round and round and round and round

the whole wide world is round

People came before us

leave their memories behind

actions done and actions written

acts impressed upon our mind

forming moving in a circle

ghosts appearing through the sound

waving at us from a distance

cause the whole wide world is round and round and round and round

the whole wide world is round

Round and round and round and round

the whole wide world is round

written by Abbey Lincoln

vocals - Kosi
piano - John Lander
bass - Christopher Hall
drums - Isaiah Pierce

hide
8. Hey Lordy Mama

5:46

[credits/lyrics]
Lyrics to Hey Lordy Mama (hide)

Hey lordy mama

heard you wasn't feeling good

they're spreading dirty rumors

around the neighborhood

they say you're mean and evil

and don't know what to do

and that's the reason that he's gone gone

and left you black and blue

hey lordy mama

whatcha gonna do?

They say he left you all alone

to weather this old storm

he's got another woman now

hanging on his arm

that fool's telling everybody

he's sick and tired of you

hey lordy lordy mama

whatcha gonna do?

hey lordy mama

whatcha gonna do?

They say you love to fuss and fight

and keep a good man down

you don't know how to treat him

when you're out on the town

they say you're not behind him

and just don't understand

cause you're thinking you're a woman

but acting like a man

hey lordy mama

whatcha gonna do?

Get your nerves together mama

and set the record straight

let the whole round world know it wasn't you

that caused this bitter fate

all those years you loved him

and he knows it's true

cause what you wanting what you wanting for your man

is what he's wanting too

hey lordy mama

whatcha gonna do?

written by Nina Simone and Abbey Lincoln

vocals - Kosi
sax - Brendon Biagi
guitar - Aron Marchak
bass - Christopher Hall
drums - Isaiah Pierce

hide
9. Down Here Below (acoustic)

8:06

[credits/lyrics]
Lyrics to Down Here Below (acoustic) (hide)

Down here below

The winds of change are blowing through the weary night

I pray my soul will find me shining in the morning light

Down here below

Down here below

it's not so easy just to be

sometimes I'm really all at sea

You made me when the world was new

and skies were blue

and I am here because there's you

They say I'll never see your face

that we're all banished from your grace

the one you fashioned with your hand

and scattered all across the land

but I am happy just to know

that you will go where I must go

for there are wounds and scars to show

living here, down here below

Down here below

the setting sun is shining on my melancholy mood

I hear the distant thunder and the crying of the loon

down here below

I'm yours alone

the only one to call my own

the only one I've ever known

Sometimes I see you standing there

Sometimes I'm free

and you are here, down here with me

You made me just the way to be

a heart that feels and eyes to see

a strong embrace, a simple hand

a spirit free that says "I can"

and I am happy just to know

that you will go where I must go

for you will send me, this I know

living here, down here below

living here, down here below

living here, down here below

written by Abbey Lincoln

Vocals - Kosi
Guitar - Aron Marchak

hide
10. Prelude: A Wedding Song

4:54

[credits/lyrics]
Lyrics to Prelude: A Wedding Song (hide)

A hint of faint excitement when at first I saw him there

the merest comprehension of a silent somber stare

the pain that was apparent as the blackness of his hair

until a precious devil smile seemed to say "I care"

the sounding of my heart was heard to carry through the air

I held my breath a moment as I spoke a tiny prayer

The way it was to hear his lusty laughter overspill

a face that told of living much that caused my eyes to fill

was veiled as though anticipating faithless fortune still

and then he took my hand and led me to the highest hill

where shining stars and yellow moon did cause my heart to thrill

and all my life with all my love his bidding I'll be willing

music by Heitor Villa Lobos lyrics by Abbey Lincoln

vocals - Kosi
guitar - Domagoj Miskovic

hide
Other Albums