This is the official website of
Kosi
, also known as
The Sublime Miss Kosi
,
Kosi Gyebi
,
Kosi Gyebi Sorensen
,
Akosua Gyebi
, and
Akosua Gyebi Sorensen
. She is a singer, vocalist, singer-songwriter, and arranger in
jazz
, r&b, blues, and rock music.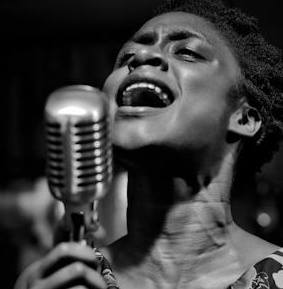 Music Store
Reviews
All About Jazz | I Know Who I Am
:
Kosi is a devoted singer who wears her heart on her sleeve, there is no grey area, no stones left unturned, and no feelings to hide. This is a transcendental self-portrait, inspiration culled from the darkest shadows of the soul is hurled into the light. She knows who she is.
by James Nadal, July 26, 2017
Newcity Music | I Know Who I Am
:
In all, it's a rich, breathing, urgent album and Kosi inflects every measure with unflinching integrity. "Diva" is a hopelessly devalued word these days; we need a new one for singers like this, who stand their ground and deliver the goddamn goods.

by Robert Rodi, January 20, 2017
Click here for more reviews
CD comes in a jewel case with a one-panel insert and pretty artwork. Download comes in your choice of high-quality MP3, FLAC, or just about any other format you could possibly desire.
Also available on:
itunes
,
tidal
,
spotify
,
amazon
,
google play
,
cdbaby
,
bandcamp
"And God said 'Love your enemy' and I obeyed [her] and I loved myself." -- Khalil Gibran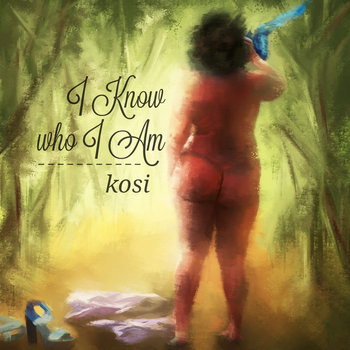 More images:
front
back
inside
Release Date:
November 4, 2016
Kosi - vocals, acoustic guitar
Vincent Parker - vocals
Brendon Biagi - tenor sax
Satish Robertson - flugelhorn, trumpet
Aron Marchak - electric guitar
John Lander - piano
Christopher Hall - bass
Isaiah Pierce - drums
Ian Koranek, Abdallah Oubaki, Daniel Leeds - recitations
1. Intro (Hallelujah)

0:50

[credits/lyrics]
Lyrics to Intro (Hallelujah) (hide)

They say I took the name in vain

When I don't even know the name

but if I did, well baby, what's it to ya?

There's a blaze of light in every word

It doesn't matter which you heard:

the holy or the broken hallelujah

Hallelujah, hallelujah, hallelujah, hallelujah

written by Leonard Cohen

vocals - Kosi

hide
2. Elder Washington

2:56

[credits/lyrics]

written by Salim Washington

vocals - Kosi
piano - John Lander

hide
3. Guilty

5:08

[credits/lyrics]
Lyrics to Guilty (hide)

I did it for the love

I did it for the money

I did it for the fruit

I did it for the honey

I did it for you

and you can be a witness

cause that means I'm guilty I'm guilty I'm guilty

of all of this

I did it for the love

I did it for the power

I did it for the sweet

I did it for the sour

I did it for you

and you can be a witness

cause that means I'm guilty I'm guilty I'm guilty

of all of this

I did it for the love

I did it for the glory

I did it for the fun

I did it for the story

I did it for God

I did it for a Man

I did it for the Devil

I did it cause I can

I did it for you

and you can be a witness

cause that means I'm guilty I'm guilty I'm guilty

of all of this

written by Akosua Gyebi

Vocals - Kosi
Tenor Sax - Brendon Biagi
Guitar - Aron Marchak
Bass - Christopher Hall
Drums - Isaiah Pierce

hide
4. Servant's Prayer

2:11

[credits/lyrics]
Lyrics to Servant's Prayer (hide)

Amen, amen

Master hear your servant's prayer once again

I'll be honest, I'll be fair

yes I'll own you anywhere

this is your servant's prayer

Amen

Trad. Negro spritual

Vocals - Kosi
Recitations - Ian Koranek, Abdallah Oubaki, Daniel Leeds

hide
5. Lament in A minor

4:41

[credits/lyrics]
Lyrics to Lament in A minor (hide)

Pacing around with all the demons in my mind

Shivering scared of all the things that I may find

Can I avoid the things inside of me

Close my eyes, still I see

things that I don't want to be

troubled and confined

Walking the floor I think of all the things I've done

Wonder how I could be of use to anyone

haven't been following my own advice

same mistakes more than twice

sorry maybe won't suffice

and there's nowhere to run

Cause it's been 1-2-3-far too many

times that I've been down this road I'm walking on

And it's been 5-6-7-ain't that something

can I be redeemed or am I too far gone?

If there is mercy, can that mercy be for me?

If there is freedom then by God may I be free?

If there's a way that I can make it right

slay the beast and end the fight

I may walk into the light

no more pain for me

Cause it's been 1-2-3-4-5-since I've been here

I don't want to be here anymore

And it's been 7-8-9-then what happens

if I never find what I've been searching for?

If there is mercy, can that mercy be for me?

If there is freedom then by God may I be free?

If there's a way that I can make it right

slay the beast and end the fight

I may walk into the light

no more pain for me

no more pain for me

no more pain for me

written by Akosua Gyebi

vocals, ac. guitar - Kosi
el. guitar - Aron Marchak

hide
6. Your Angel

5:45

[credits/lyrics]
Lyrics to Your Angel (hide)

They call me evil

They call me evil

I try to do right, but they just tell me I'm wrong

I want to be loved, they say I don't belong

They say when I cry it's just a trap

that I'm up to something

They knock me down when I try to be strong

A beautiful woman is too easy to blame

when something goes wrong, just point the finger at Mame

they want to examen all my choices

with a microscope

and then in their judgement leave me nothing but shame

They call me evil

But you call me angel

I know I'm on to something good

each time I make you smile

I see that pretty face and know

I've done something worthwhile

I know I'm on to something good

each time I make you smile

I see that pretty face and know

I've done something worthwhile

I know I'm on to something good

each time I make you smile

I see that pretty face and know

I've done something worthwhile

And I can deal with what they say if I'm an angel to you

I can deal with what they say if I'm an angel to you

I can deal with what they say

I can deal with what they say

I can deal with what they say if I'm an angel to you

I can deal with what they say if I'm an angel to you

I can deal with what they say if I'm an angel to you

I can deal with what they say

I can deal with what they say

I can deal with what they say if I'm an angel to you

written by Akosua Gyebi

vocals - Kosi
guitars - Kosi, Aron Marchak
bass - Christopher Hall
drums - Isaiah Pierce

hide
7. Walk With me

2:57

[credits/lyrics]
Lyrics to Walk With me (hide)

Walk with me, Lord, walk with me

walk with me, Lord, walk with me

as I travel this weary journey

Lord, I want Jesus to walk with me

I'm alone, Lord, walk with me

I'm alone, Lord, walk with me

as I travel this weary journey

Lord, I want Jesus to walk with me

All the way, Lord, walk with me

all the way, Lord, walk with me

as I travel this weary journey

Lord, I want Jesus to walk with me

Trad. Negro spiritual

vocals - Kosi
flugelhorn - Satish Robertson

hide
8. Father So Wise (Elder Washington)

5:31

[credits/lyrics]
Lyrics to Father So Wise (Elder Washington) (hide)

Father so wise

so true so strong for me

you bring joy to this song

this song of love and loss

death and life

Father so wise

you gave your all for me

and your love keeps me strong

to go on

Hold me close till the song is done

Hold me close till the pain is gone

Father, father, father

written by Salim Washington lyrics by Akosua Gyebi

vocals - Kosi
tenor sax - Brendon Biagi
guitar - Aron Marchak
bass - Christopher Hall
drums - Isaiah Pierce

hide
9. Hallelujah

4:19

[credits/lyrics]
Lyrics to Hallelujah (hide)

I heard there was a secret chord

that David played and it pleased the Lord

but you don't really care for music, do ya?

It goes like this, the fourths, the fifths

the minor falls, the major lifts

the baffled king composing Hallelujah

Hallelujah, hallelujah, hallelujah, hallelujah

Now baby I've been here before

I've seen this room, I've walked this floor

I used to live alone before I knew ya

I've seen your flag on the marble arch

and love is not a victory march

it's a cold and it's a broken Hallelujah

Hallelujah, hallelujah, hallelujah, hallelujah

And maybe there's a god above

but the only thing I've learned from love

is how to shoot somebody who outdrew ya

It's not a cry that you hear at night

it's not somebody who's seen the light

it's a cold and it's a broken Hallelujah

Hallelujah, hallelujah, hallelujah, hallelujah

written by Leonard Cohen

vocals - Kosi
flugelhorn - Satish Robertson
guitar - Aron Marchak
bass - Christopher Hall
drums - Isaiah Pierce

hide
10. Since I Laid My Burden Down

3:54

[credits/lyrics]
Lyrics to Since I Laid My Burden Down (hide)

Glory glory hallelujah

Since I laid my burden down

glory glory hallelujah

Since I laid my burden down

Y'all don't treat me like you used to

Since I laid my burden down

Y'all don't treat me like you used to

Since I laid my burden down

The burden's down, Lord, the burden's down, Lord

Since I laid my burden down

the burden's down, Lord, the burden's down, Lord

Since I laid my burden down

I feel better, so much better

Since I laid my burden down

I feel better, so much better

Since I laid my burden down

Since I laid my burden down

Since I laid my burden down

Trad. Negro spiritual

vocals - Kosi, Vincent Parker
guitar - Aron Marchak

hide
11. Morning After Blues

6:12

[credits/lyrics]
Lyrics to Morning After Blues (hide)

My body will heal

and my soul has not been bruised

I'm more than what I feel

more than these morning after blues

the past isn't real

just shadows and memories and booze

but my body will heal

from these morning after blues

My body belongs to me

my body belongs to me

I'm okay

The air in my lungs

the sun on my face

I'm okay

The hair on my head

my feet in my shoes

I'm okay

I know who I am

I know who I am

I know who I am

I know who I am

My mind is at ease

looking out on this brand new day

I'll rest if I please

and I'll soon be on my way

the scent on the breeze

lets me know I'll be okay

My mind is at ease

looking out on this brand new day

My body belongs to me

my body belongs to me

I'm okay

The air in my lungs

the sun on my face

I'm okay

The hair on my head

my feet in my shoes

I'm okay

I know who I am

I know who I am

I know who I am

I know

My body belongs to me

my body belongs to me

I'm okay

The air in my lungs

the sun on my face

I'm okay

The hair on my head

my feet in my shoes

I'm okay

I know who I am

I know who I am

I know who I am

I know who I am

written by Akosua Gyebi

vocals - Kosi
piano - John Lander

hide
Other Albums