This is the official website of
Kosi Gyebi Sorensen
, also known as
The Sublime Miss Kosi
,
Kosi Gyebi
,
Akosua Gyebi
, and
Akosua Gyebi Sorensen
. She is a singer, vocalist, singer-songwriter, and arranger in
jazz
, r&b, blues, and rock music.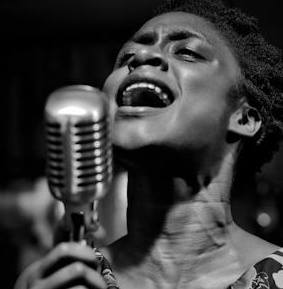 Music Store
CD comes in a jewel case with a one-panel insert and pretty artwork. Download comes in your choice of high-quality MP3, FLAC, or just about any other format you could possibly desire.
"To achieve great things, two things are needed; a plan, and not quite enough time." -- Leonard Bernstein
More images:
front
back
inside
Release Date:
September 21, 2013
Recorded and mixed by Joe Davi at Cathedral Sound in Long Island City, NY (all tracks except "Marlene," which was recorded at Brooklyn College in Brooklyn NY)

Special thanks to Robert Martinez
Click the title for album credits, lyrics, etc.
1. Goodbye Pork Pie Hat

3:27

written by Charles Mingus

vocals -- Kosi
guitar -- Aron Marchak

hide
2. One More Cup of Coffee

3:52

Lyrics to One More Cup of Coffee (hide)

One more cup of coffee

or maybe it was tea?

These shoes are done with walking

that don't bother me.

One guitar string missing --

I think that one's the G?

One knight in tarnished armor

come to rescue me.

'Scuse me, I was on my way to nowhere

and you look like you know how to get there

so walk with me.

One more cup of coffee --

my cup is running low.

One more half hour talking

and we're out of dough.

Now the night is falling

we've got nowhere to go.

Take me somewhere secluded

no one has to know.

'Scuse me, this is not what I had planned out

but since you're standing there with your hand out

come walk with me.

One more cup of coffee

One more tasty brew

One more spoonful of sugar

nothing's sweet as you

Just a love story babe

and I swear that it's true.

Just a love story babe.

Vocals -- Kosi
Guitar -- Aron Marchak

hide
3. Little Miss Generous

4:13

Lyrics to Little Miss Generous (hide)

This is the story about a girl named Little Miss Generous.

She ran out of money, so she gave up her soul

then she plucked out her fingernails right from their cuticles

peeled them right off and tossed them in a bowl

and she gave it all away 'til she had nothing left to give.

She plucked out her eyebrows one hair at a time

tossed them in the bowl and left it on the table

with a marker-written sign that said "free for the taking"

and when nobody took she called them all ungrateful

she gave it all away 'til she had nothing left to give.

See her now on the corner, skinless and shivering

nothing more to give now and even less to say

but no one will help her, as they all know the score

that anything you give her, she'll just give it away

'cause she gave it all away 'till she had nothing left to give

'till she had nothing left to give

Oooh... 'till she had nothing

Vocals -- Kosi
Guitar -- Aron Marchak

hide
4. The Coldest Summer

2:56

Lyrics to The Coldest Summer (hide)

It was summertime and you were cold

and I was feverish

Really thought that I could warm your soul

but that was long ago

in those days I was foolish

Even when I held you in my arms

I felt alone.

How could I resist your rugged charms

even as I bruised my flesh

against your heart of stone.

Alone, I sat alone

in a dark corner huddled

to protect myself

against the blizzard that was you.

I loved you though you could not see

through your icy cover

Looking back I know that had to be

the coldest summertime

and you the falsest lover.

And how can I have known

that the pervasive chill that

froze your spirit would

come round and freeze my spirit too?

I loved you though you could not see

through your icy cover

Looking back I know that had to be

the coldest coldest summertime (6x)

the coldest summertime

and you the falsest lover.

Vocals -- Kosi
Guitar -- Aron Marchak

hide
5. Karen

4:54

Lyrics to Karen (hide)

Your body was like a temple

and I, like a burnt sacrifice,

was laid on your altar, consumed by your fire

and now I am paying the price

cause I'm longing to love you, Karen

I'm burning to taste you, Karen

I'm learning to hate you, Karen

dear Karen, sweet Karen

A god of my own creation

deceit in the form of a kiss

that one who could love me the way that you loved me

could ever in this life exist

cause I'm longing to love you, Karen

I'm burning to taste you, Karen

I'm learning to hate you, Karen

dear Karen, sweet Karen

But who were you and where are you

another sky, another space

a vagabond, a bitter place

what am I expected to do?

You're only a passing distraction

the thing I so wanted to find

unfortunately now I'm bound to delusion

I can't get you out of my mind

Vocals -- Kosi
Guitar -- Aron Marchak

hide
6. Autumn in New York

2:39

Lyrics to Autumn in New York (hide)

Autumn in New York

why does it seem so inviting?

Autumn in New York

it spells the thrill of first nighting

shimmering crowds and glittering clouds

in canyons of steel

they're making me feel

I'm home.

It's autumn in New York

that brings the promise of new love.

Autumn in New York

is often mingled with pain.

Dreamers with empty hands

may sigh for exotic lands

but autumn in New York

it's good to live it again.

written by Vernon Duke

Vocals -- Kosi
Guitar -- Aron Marchak

hide
7. Need Your Love

3:41

Lyrics to Need Your Love (hide)

I can sing backup in anybody's band

and I'll sing it so low 'cause I can do it like a man

then I'll sing it so high 'cause I think it might impress you

but I won't do it loud 'cause I'll never ever stress you

I can bend my body I can twist it like a string of pearls

bend over backwards, I can do it, I'm a yoga girl

back so strong make you call me Aunt Sarah

call me Jessie call me Mary 'cause the name don't matter

I need you to love me

I need your love

Can I make you can I make you love me

I need your love

That's all I'm asking

I can take humiliation if you serve it in a bowl

I can tear it into pieces or just take it down whole

I can grill it like a steak with some hot sauce on it

and I won't share a piece 'til you tell me that you want it

I can paint my body all in gold 'til it glitter

I can be that little cutie you'd be strutting to be with her

and I'd look so good they'd be like "who's that chick?"

but if you don't want to see it I can put away my guitar

I need you to love me

I need your love

Can I make you can I make you love me

I need your love

That's all I'm asking for

Vocals -- Kosi
Guitar -- Aron Marchak

hide
8. The Last Shot (free!)

3:12

Lyrics to The Last Shot (hide)

This may be

my last shot of whiskey for a while, I'm

jittery and I can't sleep. I know I

shouldn't have so many but

I thought that it would be okay

You told me it would be okay

I want to

I'd even go so far to say I need you

and everything you tell me I believe you

when you put your arms around my waist

and told me it would be okay

You said that it would be okay

You're pouring lies into my cup

and I drink it down as you fill it up

And I taste it

I've had too much to drink and now I'm wasted

I think I might be sick and God I hate it

and I need a cup of coffee but

I think that I will be okay

You told me I would be okay.

This may be

my last shot of whiskey for a while, I'm

jittery and I can't sleep. I know I

shouldn't have so many but

I thought that it would be okay

You told me it would be okay

Vocals -- Kosi
Guitar -- Aron Marchak

hide
9. Marlene

4:30

Lyrics to Marlene (hide)

This could be your retribution,

the perfect solution

to all of this stuff, love.

I gave you all that I could

but I guess it's no good

if I'm playing too rough, love.

This is the way that I feel

'cause the shit just got real

you're in need of protection.

Watch where you're putting your lips

while my body still drips

with that poison infection.

Run Marlene, go Marlene,

don't take me with you.

Run Marlene, go.

Run Marlene, go Marlene,

don't take me with you.

Run Marlene, go.

Now take your chance, get away

'cause you don't get an A

just for participating.

I have been lonely before

it's okay, shut the door,

I'll be here masturbating.

Now that my love has been started

you've opened your heart

and it's going to break now.

It matters not that I care

but you'd better prepare

for the violent takedown.

You can put down your resistance.

I love your persistance

but you're going to burn, love.

This is the point where it shatters

'cause it hardly matters

that I tried to love you

I wanted to love you

my love is your curse

it will only get worse

if you stay with me.

This could be your retribution

the perfect solution

to all of these issues.

Since I'm the wretched who hurt you,

I may not deserve to

declare that I miss you.

guitar and vocals -- Kosi

Recorded at Brooklyn College

hide
10. Once And Future

4:52

Lyrics to Once And Future (hide)

Ain't it funny how certain people never seem to get it right

like when I try to say I love you and we end in a fight

and maybe I'm sorry for the many stupid things that I do

but I don't know another way for me to get back with you

and I want to stare into the eyes of my once and future man

It's not over, it's not over

It's not over, not over, not over, no

And I promise if I could ever get myself out of this mess

then I could be the love you need instead of causing you stress

and maybe I'm holding way too tightly to a dying jones

but I don't know another way to get the chill from my bones

I want to stare into the eyes of my once and future man

It's not over, it's not over

It's not over, not over, not over, no

And I'm begging you please, take me back

My whole life is on a runaway track

and maybe I'm sorry for the many ways in which I've been a fool

but I love you, babe, I love you, babe, so please don't be cruel

I want to stare into the eyes of my once and future man

It's not over, it's not over

it's not over, not over, not over, no

it's not over, not over, not over, no

it's not over, not over, not over, no

Vocals -- Kosi
Guitar -- Aron Marchak

hide
Reviews
ECM REviews | Kosi: One More Cup of Coffee
:
From jazz to blues to neo-soul: it's all there, pre-tapped and ready to be heard, but with such freshness of vision that it could be from no other singer. This is Kosi's strength, a raw yet elegant presentation that explodes with originality…
Review by Tyran Grillo published on April 14, 2014
Click here for more reviews
Other Albums