This is the official website of
Kosi
, also known as
The Sublime Miss Kosi
,
Kosi Gyebi
,
Kosi Gyebi Sorensen
,
Akosua Gyebi
, and
Akosua Gyebi Sorensen
. She is a singer, vocalist, singer-songwriter, and arranger in
jazz
, r&b, blues, and rock music.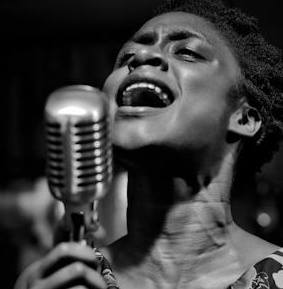 Music Store
Reviews
All About Jazz | Kosi: Pictures of Us
:
Singing from the chest and from the heart, she unearths deeply buried jewels of exposition from the strata of every song.
by Tyran Grillo published on Dec 15, 2014
House in the Sand: "Pictures Of Us" by Kosi
:
Once again the talented singer managed to convince with her endless talent. Honest songs which tell lyrics in emotional and poetic ways. A big variety of sounds supports Kosi's vocal range and helps making this record one to treasure.
Review by Vanessa Jertschewske published on September 15, 2014
Something Else! Reviews | Kosi - Pictures of Us (2014)
:
Her music is authentic, from the heart, and her voice is blissful to listen to. She is fulfilling the early promise she showed. She has the range and tone of an angel yet the throatiness and devilment of a banshee.
by Sammy Stein, published on Aug 28, 2014
Click here for more reviews
CD comes in a jewel case with a one-panel insert and pretty artwork. Download comes in your choice of high-quality MP3, FLAC, or just about any other format you could possibly desire.
Also available on:
itunes
,
tidal
,
spotify
,
amazon
,
google play
,
cdbaby
,
bandcamp
"It always seems impossible until it's done." -- Nelson Mandela
More images:
front
back
inside
Release Date:
June 2, 2014
Kosi - Vocals
Jonathan Rooke - Vocals
Angeleisha "Trumpetess" Rodgers - Trumpet, Flugelhorn
Brendon "Notorious" Biagi - Tenor Saxophone
Aron Marchak - Guitar
Dan Saulpaugh - Guitar
Julian Smith - Bass
Isaiah Pierce - Drums

Recorded and mixed by
Joe Davi at Cathedral Sound in Long Island City, NY
Johnny Young at Horizon Sound in Brooklyn, NY
1. Wild is the Wind

6:23

[credits/lyrics]
Lyrics to Wild is the Wind (hide)

Love me, love me, say you do

let me fly away with you

for our love is like the wind

and wild is the wind

Give me more than one caress

satisfy this hungriness

let the wind blow through our hearts

for wild is the wind

You touch me, I hear the sound of mandolins

You kiss me, and with each kiss my life begins

You're spring to me, all things to me

you're life itself

LIke the leaf clings to the tree

oh, my darling, cling to me

for we are creatures of the wind

and wild is the wind

written by Dimitri Tiomkin and Ned Washington

Flugelhorn - Angeleisha "Trumpetess" Rodgers
Vocals - Kosi
Guitar - Aron Marchak
Bass - Julian Smith
Drums - Isaiah Pierce

hide
2. I Already Know

6:46

[credits/lyrics]
Lyrics to I Already Know (hide)

You'll be so cold

I'll be emotional

you'll ignore me

call me crazy

It's obvious

what will come of us

Because I already know, I already know, I already know

how you're going to break my heart

I already know, I already know, I already know how

I'll be so mean

just to make a scene

you'll laugh when I curse

just to make it worse

I'd apologize

for my discerning eyes

but love has made me wise

Because I already know, I already know, I already know

how you're going to break my heart

I already know, I already know, I already know how

You'll be so cold

You'll still have my soul

I already know, I already know

I already know, I already know

I already know, I already know, I already know how

I already know, I already know

I already know, I already know

I already know, I already know, I already know how

Vocals - Kosi
Tenor Sax - Brendon "Notorious" Biagi
Guitar - Aron Marchak
Bass - Julian Smith
Drums - Isaiah Pierce

hide
3. Brianna

3:53

[credits/lyrics]
Lyrics to Brianna (hide)

I heard a song on the street today

and it made me think of you, Brianna

A soft guitar and if you had heard the song

you just might sing along

like "la-la-la"

'Cause every single pretty thing

every beauty seems to sing

Brianna

I saw a dress in a shop window

and it made me think of you, Brianna

The softest colors cascading from the waist

would just light up your face

like "ah-ah-ah"

'Cause every single pretty thing

every beauty seems to sing

Brianna

I saw a smile from a child today

and it made me think of you, Brianna

Vocals - Kosi
Guitar - Aron Marchak
Bass - Julian Smith
Drums - Isaiah Pierce

hide
4. The Star Crossed Lovers

3:43

[credits/lyrics]

written by Duke Ellington

Vocals - Kosi
Guitar - Aron Marchak
Bass - Julian Smith

hide
5. Pictures of Us

3:38

[credits/lyrics]
Lyrics to Pictures of Us (hide)

These shards, these things, these pictures of us

these broken promises, misunderstandings

hot on the rocks with a shot of brandy

These shards, these things, these pictures of us

those cold libations and bitter poisons

false expressions on paper frozen

Times I made you cry

times you made me hate you

times I'd wonder why

we kept these pictures of the past

these cocktails in a broken glass

Vocals - Kosi, Jonathan Rooke
Trumpet - Angeleisha "Trumpetess" Rodgers
Guitar - Aron Marchak
Bass - Julian Smith
Drums - Isaiah Pierce

hide
6. Your Angel (free!)

3:14

[credits/lyrics]
Lyrics to Your Angel (hide)

They call me evil

They call me evil

I try to do right, but they just tell me I'm wrong

I want to be loved, they say I don't belong

They say when I cry it's just a trap

that I'm up to something

They knock me down when I try to be strong

A beautiful woman is too easy to blame

when something goes wrong, just point the finger at Mame

they want to examen all my choices

with a microscope

and then in their judgement leave me nothing but shame

They call me evil

But you call me angel

I know I'm on to something good

each time I make you smile

I see that pretty face and know

I've done something worthwhile

I know I'm on to something good

each time I make you smile

I see that pretty face and know

I've done something worthwhile

And I can deal with what they say if I'm an angel to you

I can deal with what they say if I'm an angel to you

I can deal with what they say

I can deal with what they say

I can deal with what they say if I'm an angel to you

I can deal with what they say if I'm an angel to you

I can deal with what they say if I'm an angel to you

I can deal with what they say

I can deal with what they say

I can deal with what they say if I'm an angel to you

You call me angel

Vocals and Guitar - Kosi
Bass - Julian Smith

hide
7. Valerie

7:20

[credits/lyrics]
Lyrics to Valerie (hide)

Hello, I hope this letter finds you doing well

I've been blessed, and I have nothing bad to tell

I laugh often and I smile often, my life is good

But still the thought of you comes pealing through

just like a bell

And I want you to know that I still think of you

I want you to know that I still think of you

Valerie, Valerie, you've been on my mind

Valerie, Valerie, do you remember me sometimes?

I've been to Spain. I found the food to be divine

I've been to England, too. I find the people there are fine

I've loved and I've lost and I've found love again

and yet the tender way we danced that day

stays on my mind

And I want you to know that I still dance down that street

I want you to know that I still dance down that street

Valerie, Valerie, you've been on my mind

Valerie, Valerie, do you remember me sometimes?

Valerie, Valerie, you've been on my mind

Valerie, Valerie, do you remember me sometimes?

Hello, I hope this letter finds you

Hello, I hope this letter finds you doing well

I hope this letter finds you doing well

I hope this letter finds you

Vocals - Kosi
Tenor Sax - Brendon "Notorious" Biagi
Guitar - Aron Marchak
Bass - Julian Smith
Drums - Isaiah Pierce

hide
8. Untitled Art Song in E minor

6:36

[credits/lyrics]
Lyrics to Untitled Art Song in E minor (hide)

Cold lips to warm skin

Cold ice to warm gin

Cold guilt to warm sin

How dare you

do to me what you did to me

How dare you love me?

New life to old love

New fit to old glove

New push to old shove

How dare you

do to me what you did to me

How dare you leave me?

Vocals - Kosi
Guitar - Dan Saulpaugh

hide
9. Hoboken Blues

5:10

[credits/lyrics]
Lyrics to Hoboken Blues (hide)

You can come see me baby if that's what you want to do

You can come see me baby 'cause I ain't gonna go see you

The other side of that river baby I just ain't going to

You see a Hoboken man done turned my head around

I got them Hoboken blues, they're dragging me dragging me down

So I'm sorry for it baby but I ain't going back to that town.

Thursday we were making love all day

Love me so good he took my breath away

Friday night we got into a fight

and he had a new woman on Saturday

I got them Hoboken blues and they're dragging me down, they're dragging me down

So I'm sorry for it baby but I ain't going back to that town.

Sitting up in Harlem having me a beer

Waiting for the A train to take me out of here

You could be the one and we could have some fun

But Jersey, baby, I just don't go there

I got them Hoboken blues and it's dragging me down it's dragging me down

So I'm sorry for it baby, but I ain't going back to that town.

I got them Hoboken blues they done turned my head around

I got them Hoboken blues they're dragging me dragging me down

So I'm sorry for it baby but I ain't going back to that town.

Vocals - Kosi
Trumpet - Angeleisha "Trumpetess" Rodgers
Guitar - Aron Marchak
Bass - Julian Smith
Drums - Isaiah Pierce

hide
10. Lovers' Song (Be the One)

3:37

[credits/lyrics]
Lyrics to Lovers' Song (Be the One) (hide)

This could be a memory

or maybe just a fantasy

of when you're so close to me

Don't you feel the spirit rise

when you look into my eyes?

That electricity?

I want you to be the one who holds me when I'm shaking.

I think you could be just what I've been waiting for.

Do you hear the lovers' song?

It's been playing all along

when we do what we do.

Listen to the melody;

look around and then you'll see:

I'm the one next to you.

I want to be the one you run to when you're lonely

I think I could be just what you've been waiting for.

I want to be the one who takes you somewhere higher

I want you know that I know that I'm ready for more.

Tell me that it's just a game

that you never feel the same?

I don't believe a word.

Don't you know the secret's out?

Everybody's talking 'bout

or haven't you heard?

written by Kosi and DJ Kal (http://djkalisemo.bandcamp.com/)

Vocals - Kosi
Guitar - Aron Marchak
Bass - Julian Smith
Drums - Isaiah Pierce

hide
Other Albums