This is the official website of
Kosi
, also known as
The Sublime Miss Kosi
,
Kosi Gyebi
,
Kosi Gyebi Sorensen
,
Akosua Gyebi
, and
Akosua Gyebi Sorensen
. She is a singer, vocalist, singer-songwriter, and arranger in
jazz
, r&b, blues, and rock music.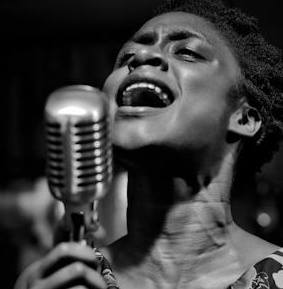 Concert in Your Home
Dear friend,
I'd like to play for you.
My favorite thing to do is house concerts, where I can really get to know the people I play for (and with!). These events are so much fun, and so memorable... it's a great way to see performers in an intimate setting without having to leave your home – like getting a house call from a musician! Are you a little bit curious?
What's a House Concert?
It's an intimate concert that you host in the safety and comfort of your own home. This is usually a get-together of friends in your living room, deck, or garden, with live music, and often food, drinks, and conversation.
Who attends a House Concert?
Your friends, neighbors, and co-workers. You have friends over for a party. They're people you know. You don't have to have strangers coming to your home. I will list it on my calendar as "House Concert" with no other information other than in what city. If I have fans that you don't know, but who want to come, I'll ask your permission before inviting them and/or giving them your address. But if you would rather it be exclusively your friends, that's fine with me.
I don't have a big house. Can I still host a concert?
Yes! Any place where people can gather comfortably is big enough, even if that's only a few people. If you have enough space to invite a few of your friends over for drinks and/or tea, then I have enough space to play for them.
You don't understand; my place is reeeeeally small. Can I book you at my neighborhood theater, coffeehouse, or gallery instead?
I would love that!
Does it cost money to host a house concert?
No, there is no cost to host a concert, but as traveling artists we appreciate it when hosts ask their guests to give a suggested donation. Usually the host collects the donations and presents the money to the performer at the close of the show. Some hosts like to collect as guests enter, but many prefer to wait until everyone is seated, and collect donations shortly before the start of the show. This donation is a pretty big deal, especially to a traveling artist, as it often means the difference between eating and not eating. Its also just a much appreciated way of helping an artist keep their music career sustainable. In other words, it's pretty helpful to me to have a suggested donation of, say, $10-$20 per person. I say "suggested" though, because I don't suggest turning someone away for lack of ability to give.
How do I plan this thing?
Exactly the way one would plan a party or a gathering. The beauty in house concerts is that they are low stress. Once we agree on a date, we can talk about a start time. Then you can setup a Facebook invite and/or shoot out emails to your network of friends to let them know about it. Some hosts provide simple soft drinks, chips and veggie platters during intermission. Some ask the guests to BYOB alcoholic beverages. Some host an extensive BBQ or pot luck buffet before the concert. It's entirely up to you, the host.
How do I set up my house for a House Concert?
Pick one of the larger rooms in your home and choose an area for the performer. Decide where you want the "stage" to be. Choose an area that is viewable from most of the room, and that will be away from the lanes of traffic. Arrange couches and chairs (depending on how many guests you expect) so that everyone will naturally face the performer. You may need to move some tables and other furniture into another room. Arrange chairs to accomodate entrance and exits, lighting, and sight lines to the artist etc.

Mind, often times moving furniture isn't necessary if you're expecting fewer than fifteen or twenty people, as I can usually find someplace to sit where everyone can see me, and people usually manage to arrange themselves in a way such that everyone can see me.
What if no one shows up for the concert?
You will usually know, well ahead of time how many guests to expect. We recommend RSVP'ing for exactly that reason. But in the event that you end up with very few or no guests, then you'll get a very intimate, private concert.
How long does the concert last?
That depends. For how long do you want me to play? I can play one set (about an hour) or two sets (about two hours) depending on how long you want to have me. If I play two sets, I'll probably take a break between them to allow guests to stretch, grab a snack, use the restroom etc. Of course, the set times are completely up for negotiation, just like everything else.
Ok, this all sounds fantastic! How do I begin?
Awesome! I'd love to play for you and your friends, so please contact me if you are interested. We can compare calendars and decide when I could be in your area.

Your fan,
Kosi ♥